第一次听Loft的概念是从《奋斗》里听到的~呵呵;那几个死党在那所谓的LOFT里堪是舒服啊!
今天碰巧又看到了一个LOFT,很是宽敞、典雅;原文转载如下:


This is a wonderful SoHo loft with a light-filled space made rich with rough brick walls, a sculptural masonry fireplace and wooden ceiling joists. The owners are Natalya and Eugene Kashper.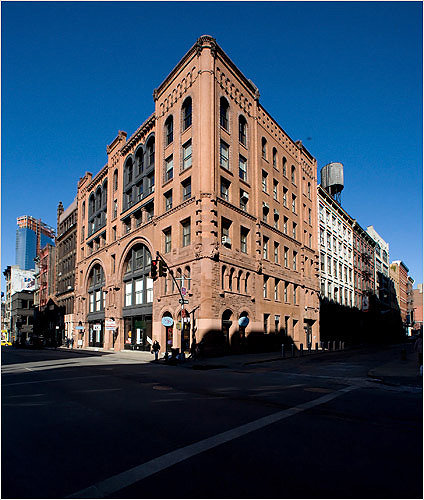 Ms. Kashper, who grew up in California, was charmed of the 7,200-square foot loft, which occupies the entire top floor of a landmark red-limestone building at the corner of Wooster and Broome Streets, New York City.
Ms. Kashper is an architect who projected DUB Studios, a young practice with offices in Brooklyn and Los Angeles. Her husband is an entrepreneur with beverage and real estate interests both in the United States and Russia. They bought the property for $6.9 million in 2006.
For a period of 10 months, Ms. Kashper visited the job site every day to oversee the renovation, which saw a Pop Art-inspired bachelor pad stripped down to its 19th-century shell. The Kashpers installed a freestanding kitchen in the middle of the loft.
Ms. Kashper, has a beautiful small daughter named Izadora. She designed the loft to accommodate large family gatherings. Their aunts, uncles and cousins gather frequently for birthdays, anniversaries and weddings.
The picture displays the room-wardrobe. The sloped ceiling hides rooftop pipes and softens an existing skylight, giving the room a meditative glow. Ms. Kashper also uses the room to practice yoga.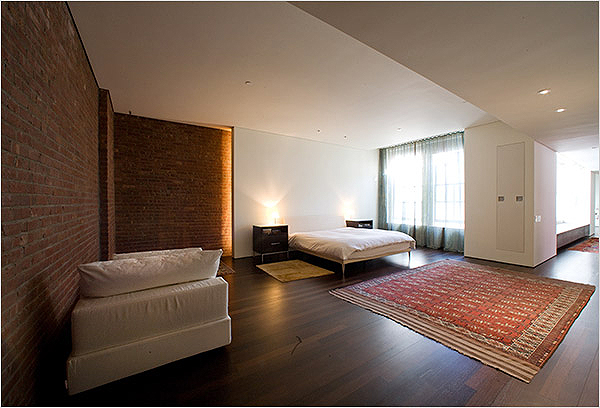 The master bedroom has plenty of space, but not much furniture, due to the minimal style, which Ms. Kashper keep.
Just close to the master suite is the marble-clad master bathroom. The freestanding tub may be the focal point, but it is the hammam-style steam shower that is the Kashpers' favorite.
Despite of the huge size, the loft feels homey and comfortable, owing partly to the warm wood and original details.
The raised dining room doubles as a stage when the Kashpers entertain.
原文地址:http://www.designsigh.com/2009/02/soho-loft/